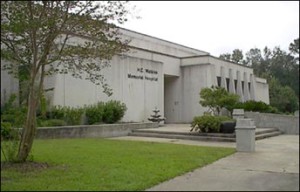 Healthcare services in the Clarke County area are among the best to be found in a rural area. H.C. Watkins Memorial Hospital, Inc. is the county's only hospital.
H.C. Watkins Memorial Hospital is located at 605 S Archusa Avenue, Quitman, MS on the beautiful Archusa Creek Reservoir.
The formal opening of the original hospital was in February 1940 by Dr. Horace C Watkins.  He named the hospital Watkins Memorial as a tribute to his son James Fatheree Watkins.  The original charter of incorporation was filed on August 28 1940.
In 1971 the facility became H.C. Watkins Memorial Hospital.  The "new" hospital building was constructed on its present location in 1975 and officially occupied at the end of that year.  Watkins joined with Rush Medical Foundation in 2006 to become the second Critical Access Hospital in Rush Health Systems.
Watkins presently serves as a 25-bed Critical Access Hospital, with dually licensed acute care/swing beds and Level IV Trauma Center.
Staffing includes a 24 hour/7 day a week Emergency Room with ER/Hospitalists; provide ancillary services along with outpatient MRI services. Providing care are:
Dr. Walt Willis, Medical Director Of Emergency Services
Dr. Mark Allen
Dr. Wayne Byrd
Dr. Walt Willis
Dr. Jack McHenry
Dr. Herbert Floyd
Dr. Andrew Watson
Dr. Lee Dean, Pathologist
LeNan Holloway, Family Nurse Practitioner
Wendell Carney, Family Nurse Practitioner.
The Rehab department is second to none, providing physical, occupational and speech therapy for both inpatient and outpatient needs.
Dr. Brahmesh Siva, Cardiologist, provides cardiology clinic twice monthly along with cardiac testing facilitated at Watkins as well.
Watkins operates three (3) Intensive Outpatient Programs (IOP) located in Quitman, Meridian and Waynesboro along with Watkins Sleep Center located in Meridian, MS.
Watkins is committed to having a well-trained staff ready to serve patients' needs.
Phone: (601) 776-6925