Clarke County seniors have a variety of opportunities and services available to them. From group trips sponsored by the churches and banks, to exercise groups, china painting classes, domino clubs, sewing clubs, volunteer organizations, dance groups, investment clubs, homemaker clubs, dinner clubs, hunting and fishing clubs, camping clubs, and geneology groups, to special services available from the East Central Area on Aging, seniors can find opportunities to meet their social and physical needs.
Many Clarke County citizens also enjoy concerts and presentations offered by the Arts and Letters Series at Meridian Community College, the Meridian Symphony Orchestra, St. Paul's Chamber Music at St. Paul's Episcopal Church, as well as the activities available through the Meridian Arts Council and the Meridian Museum of Art.
Seniors need only to contact personnel in their municipalities, the Clarke County Chamber of Commerce, or the office of East Central Area on Aging at 1-800-264-2007 to identify areas of service or activities available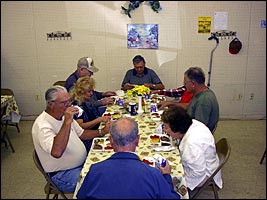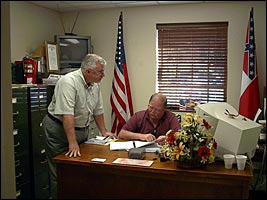 The East Central Area on Aging strives to provide a comprehensive system of home and community-based services and elder rights protection at the local level. Services are designed to meet the needs of priority target groups, including those persons aged 60+, low income, rural, minority, and low income minority. The services offered by the agency include:
CONGREGATE MEALS PROGRAM provides, in a congregate setting, a nutritionally-balanced meal five days a week, Monday through Friday, to eligible 60+ persons at strategically located centers.
The HOME DELIVERED MEALS PROGRAM provides, Monday through Friday, a nutritionally balanced meal delivered to the home of an eligible 60+ person who is homebound and or functionally impaired, particularly those in greatest economic and social need.
A TRANSPORTATION PROGRAM is provided to persons 60 years of age and above who live in Clarke County. Service activities include providing transportation for medical and dental treatment, social services, personal care needs, nutrition sites, and grocery shopping.
The INFORMATION AND REFERRAL/OUTREACH PROGRAM involves providing current, valid information to a client about available services and resources and linking that individual with the appropriate community resources to ensure necessary service will be delivered to the client.
HOMEMAKER SERVICES are supportive services provided or accomplished primarily in the home by a trained homemaker for the functionally impaired older person.
LEGAL ASSISTANCE offers advice by a licensed lawyer, including to the extent feasible, counseling or other appropriate assistance by a paralegal or law student under the supervision of a licensed lawyer, and includes counseling by a non-lawyer where permitted by law, to older individuals with economic or social needs.
OMBUDSMAN services are designed to ensure the quality of life for residents in long-term care facilities and addresses concerns about the issues that may affect their well-being.
CASE MANAGEMENT addresses continuity of services and provides the comprehensive assessment by which an individual's needs for services are determined. It includes planning and periodic monitoring and evaluation of an individual's progress toward the attainment of specific goals.
The MEDICAID WAIVER PROGRAM waives the existing Medicaid regulations in certain cases to allow for in-home and community-based service delivery to clients as an alternative to nursing home placement.
The MISSISSIPPI INSURANCE COUNSELING AND INFORMATION PROGRAM utilizes the aging network within the state to provide information and referrals to appropriate agencies regarding Medicare, Medicaid, and questions or concerns about healthcare coverage.
LIFELINE is a personal response system in the home of frail, elderly persons. 24 hours a day, it will signal for help when needed through a device worn around the neck or as a bracelet worn on the arm.
The TITLE V program is designed to promote useful, part-time work opportunities for low income persons aged 55 and above.For additional information regarding any of the above services, contact Mrs. Carolyn Hennington at (601) 776-6754.
East Central Area Agency on Aging Services Providers:
Legal Assistance East Mississippi Legal Services Corp.
P. O. Box 1931
2305 5th Street, 2nd Floor
Meridian, MS 39302
Phone: (601) 693-5470
Nutrition Sites Enterprise Senior Center
204 River Road
Enterprise, MS 39330
Phone: (601) 659-9279
Quitman Nutrition Site
106 Dabbs Ave.
Quitman, MS 39355
Stonewall Nutrition Site
801 Erwin Road
Stonewall, MS 39363
Shubuta Nutrition Site
183 Station-Eucutta Road
Shubuta, MS 39360
Nursing Homes, Clarke County
Lakeside Living Center
191 Hwy. 511
Quitman, MS
Phone: (601) 776-2141

H. C. Watkins Memorial Hospital
605 South Archusa Ave.
Quitman, MS
Phone: (601) 776-6925

Golden Meadow Speciality Care
4043 CR 110
Quitman, MS
Phone: (601) 776-2019

Personal Care Homes, Clarke County
Wisteria Manor Personal Care Home
421 County Road 280
Shubuta, MS 39360
Phone:  (601) 776-0426
Nursing Homes, Meridian Area:
Benchmark Health Care
Hwy. 45 N.
Meridian, MS
Phone: (601) 482-5606

King's Daughters and Sons Rest Home
6615 Poplar Springs Dr.
Meridian, MS
Phone: (601) 483-5256

Beverly Health Care-Broadmoor
4728 Hwy. 39 North
Meridian, MS
Phone: (601) 482-8151

Meridian Community Living Center
517 33rd St.
Meridian, MS
Phone: (601) 483-3916

Meridian Convalescent Home
517 33rd St.
Meridian, MS
Phone: (601) 553-0950

Queen City Nursing Center, Inc.
1201 28th Ave.
Meridian, MS
Phone: (601) 483-1467

Riley Nursing Center
Phone: (601) 482-7164

Reginald P. White Nursing Facility

East MS State Hospital
Phone: (601) 482-6186